PT Garuda Maintenance Facility Aero Asia Tbk
Deskripsi Perusahaan
PT Garuda Maintenance Facility Aero Asia Tbk bergerak di bidang jasa perawatan pesawat terbang, perawatan komponen dan kalibrasi, perawatan mesin untuk pesawat dan industri, pembuatan dan perawatan sarana pendukung, jasa engineering, jasa layanan material, logistik, pergudangan dan konsinyasi serta jasa konsultan, pelatihan dan penyediaan tenaga ahli di bidang perawatan pesawat, komponen dan mesin.
Kabar baik bagi pelamar yang tertarik untuk bekerja di PT Garuda Maintenance Facility Aero Asia Tbk. Saat ini sedang membuka lowongan kerja terbaru dalam rangka mencari calon pegawai/karyawan yang siap untuk bergabung dan bekerja. Informasi lebih lanjut simak keterangan dibawah ini:
Program Magang PT Garuda Maintenance Facility Aero Asia Tbk 
Lokasi; Jakarta, Tipe Pekerjaan; Full Time, Pendidikan; D3 S1, Pengalaman Kerja; 0 Tahun, Jumlah Formasi; 1
GMF INTERNSHIP PROGRAM BATCH 3.2
As part of realization of GMF commitments to develop Indonesian talent workforce, our internship program can provide opportunities for college students to work alongside experienced professionals to develop new skills and qualifications. Put into practice what you have learnt at university and give you exposure to what working life is like at GMF.
During the program, you will undertake challenging and relevant work through our Total Solution Aircraft Maintenance.
You will also be assigned a supervisor who will be responsible for looking after and guiding you throughout your entire internship period. At the completion of the internship, participants will receive an e-certificate that has been issued following the internship program authorized by the company so that it can be used as a reference in your CV or portfolio.
Who Can Apply :
College students (D4/S1 minimum in 6th semester or D3 minimum in 5th semester) from following majors
Active in organizational skills
Willing to do full-time internship for 1-3 months or more (work from office)
Willing to follow company rules and other rules applicable
College students (D4/S1 minimum in 6th semester or D3 minimum in 5th semester) from following majors can apply internship :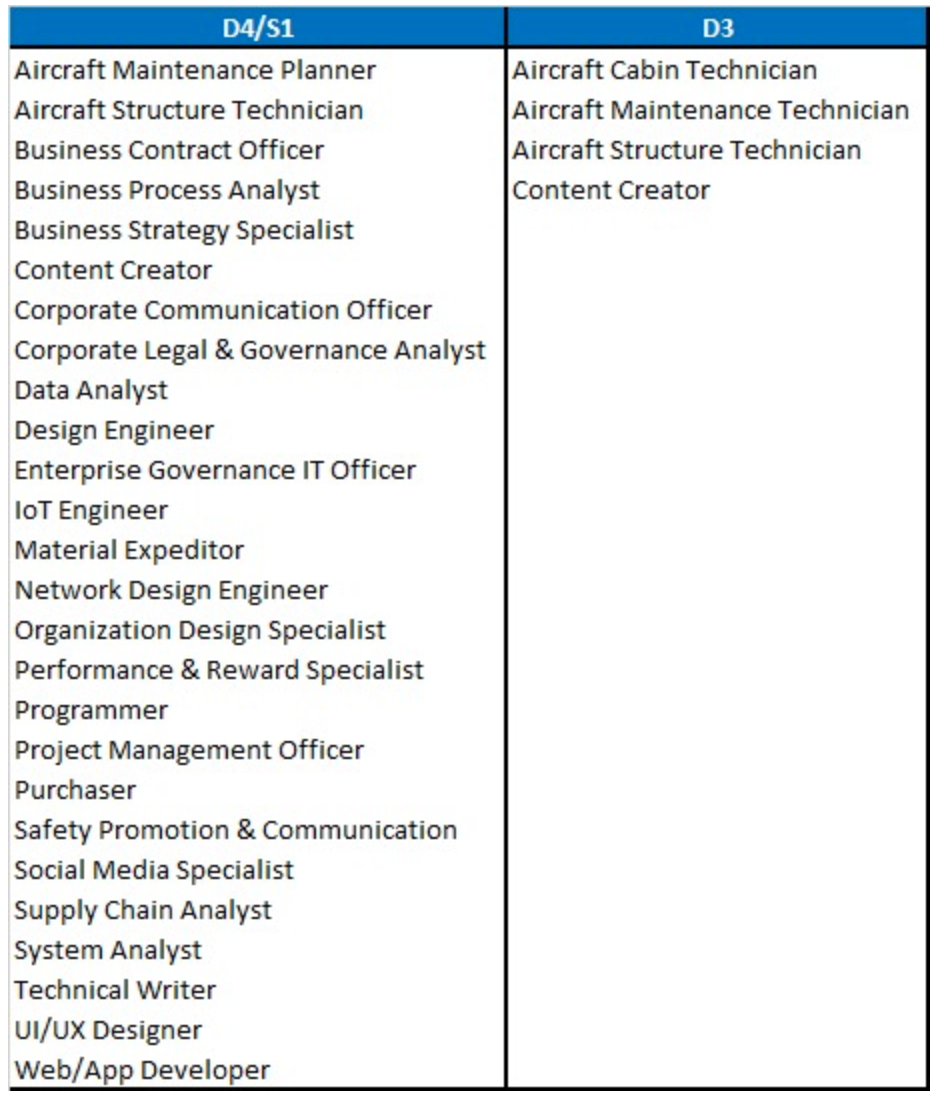 Required requirements :
Cover Letter from University
Curriculum Vitae
Latest Transcript
Proposal Internship
*Only shortlisted candidates will be notified. Company has the rights to assess and select internship applications based on the requirements, availability of coach and office facilities, relevancy, and other considerations.
Berikut Tahapan Pendaftaran
kirim CV dan berkas lamaran terbaru Anda ke:
Pada setiap tahap seleksi berlaku sistem gugur. Hanya kandidat terbaik dan memenuhi persyaratan yang berhak mengikuti tahap seleksi berikutnya. Pelamar wajib mengabaikan pihak-pihak yang menjanjikan dapat membantu kelulusan dalam proses seleksi.